San Francisco Jungang Newspaper AUG 12
'Uri Sarang' Pungmul group of Sacramento Korean School was invited to perform at UKC (US-Korea Conference for Science and Technology). [English translation below]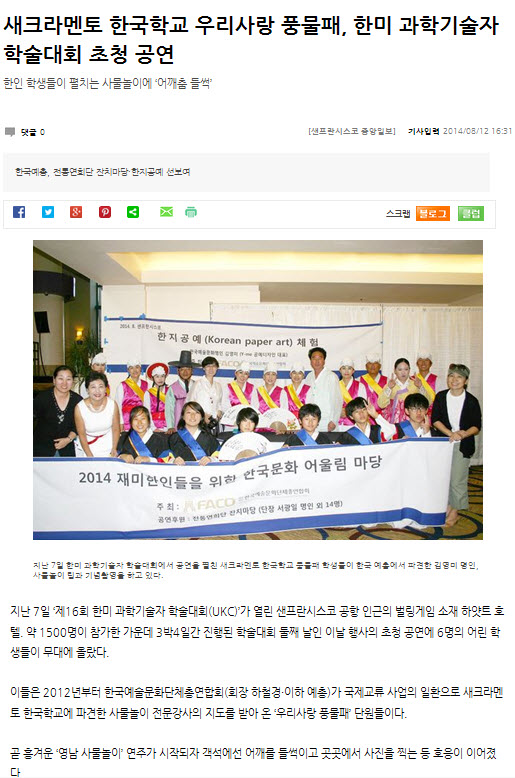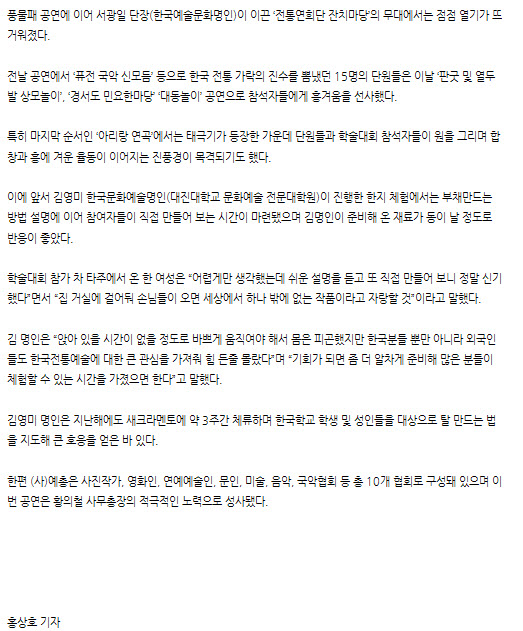 At the Hyatt hotel located in Burlinggame, near San Francisco airport is where the 16th UKC(US-Korea Conference for Science and Technology), which will take place for 3 nights and 4 days with 1500 participants. The 7th of August was the second day of this Conference and there were 6 young students invited on the stage.


They are the members of 'Uri Sarang Pungmul group'of Sacramento Korean school, led by the professional Samulnori instructor sent from FACO (The Federation of Artistic & Cultural Organizations of Korea,
한국예총
), as a part of their international-exchange-project since 2012.
As the exciting 'Yeongnam Samulnori' started to play, audience responded by dancing with shoulders and taking pictures.
Moving on from the Pungmul group was the Janchimadang's performance, led by the director Gwang-il Seo(the expert of Korean arts and culture) and the atmosphere got excited.
15 members who boasted the essence of Korean traditional melody yesterday at their performance 'Fusion Gugak Sinmodeum' gave the audience delight by playing Pangut, Yeoldubal Sangmo, Gyeongseodo Minyo(folk songs) and Daedong nori.
Especially when playing 'Arirang Medley(아리랑 연곡)' as finale, the performers and the conference participants circled, sang and danced together.
Before the performance, was held 'Hanji (Korean traditional paper) Experience' where the participants learnt how to make a paper fan and had an opportunity to make their own. It was so popular that the ingredients ran out soon.
One of the participants that came from another State for this conference said "Though I thought it would be hard before, it was very interesting after the easy instruction and hands-on experience. I'll hang it on the wall of my living room and show it to my guests, saying that it's the only one in the world".
Last year 명인(the master of art) Kim stayed in Sacramento for about 3 weeks, teaching adults and the students of Korean school how to make masks, and was raved.
FACO(한국예총) consists of 10 different organizations of photographers, movie people, entertainers, writers, arts and music, korean music, and the performance this time was accomplished through the active effort of the secretary general Hwang, Ui-cheol.

샌프란시스코 중앙일보 8.12 / 새크라멘토 한국학교 우리사랑 풍물패, 한미 과학기술자 학술대회 초청 공연